ADW15 Strain Gauge Input Digital Indicator and Controller
The ADW15 range of products is very versatile offering many software and hardware variants, designed to meet specific application areas, whether these be weighing or force measurement.
These expanded configurations enable systems to be simplified, by using a single indicator, where otherwise it may have been necessary to use several instruments or even a PC with software.
The ADW15's flexibility makes it the first choice for many control system designers. Supporting products like PC software, printers, and sensors, means most customers can deal with a single supplier.
Output options include:-
Analogue voltage and current, Industry standard digital communications, Relays, Printer Drive.
Options and Accessories include:-
A fast (peak & trough) 10mS input version (FPT), Panel mounting or DIN rail mounting, Power Supplies for 115/230 V AC or 9-32V DC, Communications outputs for printer, PLC or PC.
The ADW15 can be supplied and calibrated with any of LCM Systems compatible sensors, and can be supplied on it's own or as part of a more complex system. Please contact LCM Systems technical department to discuss your application requirements.
10V @ 150mA excitation with sense facility
4½ digit display
Auto calibration
Auto zero (tare)
Fully programmable via keypad & communications port
High noise immunity
Isolated inputs and outputs
Peak hold
Programmable in flight compensation
Suitable for full bridge sensor with a sensitivity of ±0.5 to ±200mV/V
| | | |
| --- | --- | --- |
| DC Analogue Outputs | Details | Order code |
| 0 to 10V | V04 | |
| 4-20mA | A03 | |
Other Information

Accuracy
Typical ±0.08% of output, ± 0.08%FSD
Resolution
As display resolution, max 15 bits
Calibration
By 15-turn pre sets for gain and offset
Inversion
By keypad value
Isolation
±130V RMS or DC max to analogue input or to any other port
Ranging
Fully keypad scalable over desired display range
Communications Port

Details

Order code

RS485/232
RS485 - For up to 32 instruments on 1 bus, 4 wire
RS232 ­ printer or direct connection to 1 device, 3 wire
COM 1
Other Information

Baud rates
300, 600, 1200, 2400, 4800, 9600 (19200 MANTRABUS only)
Electrical isolation
±130V RMS or DC max to analogue input or any other port
Formats
MODBUS RTU, MANTRABUS and printer output formats
Cable Length
1km (depending on baud rate)
The printer option utilises the communications board RS232 output. With the output drive for a printer offering a Time/Date stamp and log number together with the label of units of measure, or With the output drive for a log number only, together with label of units of measure. A wide range of printer may be connected.
| | | |
| --- | --- | --- |
| Alarm/Control Outputs | Details | Order code |
| SPCO | 1 relay on SP1 | R01 |
| SPCO | 2 relays on SP1& 2 | R03 |
Other Information

Relays
230V at 5A AC resistive
Isolation
±130V RMS
Keypad
Inversion, Delay Times, PID values and Time Proportioning
| | |
| --- | --- |
| Power Supplies | Details |
| 240 | 220V-230V AC 50-60Hz 10W |
| 110 | 110V-120V AC 50-60Hz 10W |
| 12 &24V | 9-32V DC 10W isolated |
| | |
| --- | --- |
| Mounting Type | Order code |
| Front Panel | P |
| Din Rail Adaptor | D |
Communication Port CP Operation
All display data can be accessed via the communications port along with relay and EEPROM status. All user configurable data can be changed including EEPROM enable/disable and relay reset (address code cannot be changed).
Other Options & Accessories
20mA PC Communications Interface (IF25)
VisualLink PC SCADA Software
Base ADP15

Displays
7 segment LED 4.5 digit 10mm.3 x 3mm LED's 2 for relay status, 1 for program and hold indication.
Controls

4 membrane panel keys
Scroll key to view/update parameter.
Digit select key.
Digit increment key.
Reset key.
Keypad disable by internal links behind front panel.
Hold function by digit select key when in input mode.
Data Retention/Protection

Retention
10 years for set up values, minimum of 100,000 write cycle
Protection of data and function(s)Watchdog timer giving repeat auto resets.
Impending power detection and hold off.
Keypad security and time out.
CE & Environmental

Storage temperature
-20 to +70ºC
Operating temperature
-10 to 50°C
Relative humidity
95% maximum non condensing
Safety/Low Voltage Directive
2006/95/EC
EMC Directive
2004/108/EC
Physical

Case Dimensions
DIN 72 x 72 x 163mm (excluding mounting terminal)
Case Material
Grey Noryl, flame retardant
Weight
750 grams
Terminals
2.5mm, saddle field terminals
Accessibility
All electronics removable through front panel leaving field wiring and case in situ.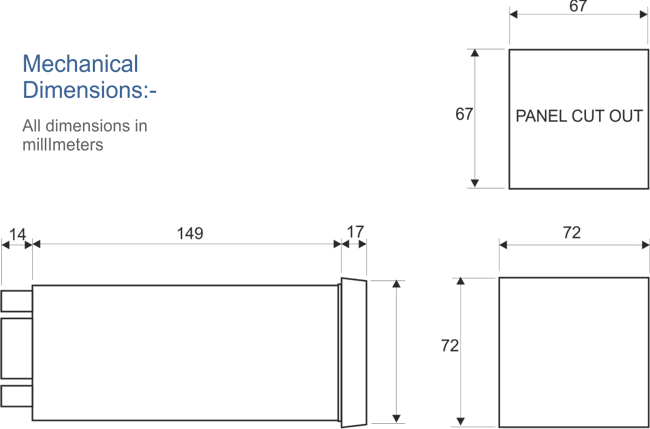 Vessel/Silo weighing
Simple batch control
General force measurement
Machinery condition monitoring
Pump and motor torque control
Crane overload protection
Crane weighing
Request a quote for ADW15 Strain Gauge Input Digital Indicator and Controller