CBR Stainless Steel Compression Bending Ring Load Cell
The LCM range of CBR compression bending ring load cells have been specifically designed for vessel/silo weighing and weighbridge applications, where low height is essential, without compromising on accuracy.
The CBR offers superb performance with regards to accuracy and environmental protection. The stainless steel design and fully welded assembly offers protection levels to IP68.
There are various mounting assemblies available for the CBR, enabling customers the opportunity to install the CBR quickly and realise the best accuracy and performance from the product.
The CBR can also be supplied with a complete instrumentation system, giving the customer a single source for their complete system. Contact our technical department to discuss your instrumentation and control requirements.
1000ohm bridge resistance
Ranges 5000, 10000, 20000, 30000kg
Rationalised output
Sealed to IP68
Silo/vessel mounting assembly option available
Small size and low profile
Stainless steel fully welded construction
Rated Load (kg)
5,000, 10,000, 20,000, 30,000
Proof Load
150% of Rated Load
Ultimate Breaking Load
>300% of Rated Load
Output
2 mV/V at Rated Load (±0.1)
Accuracy
< ±0.02% of Rated Load
Non-Repeatability
< ±0.01% of Rated Load
Excitation Voltage
10vdc recommended, 20vdc maximum
Bridge Resistance
1000?
Insulation Resistance
>500M? @ 100vdc
Operating Temperature Range
-30 to +70°C
Compensated Temperature Range
-10 to +40°C
Zero Temperature Coefficient
< ±0.002% of Rated Load/°C
Span Temperature Coefficient
< ±0.002% of Rated Load/°C
Environmental Protection Level
IP68
Connection Type
PUR screened cable Length 5m (5000kg)
10m (10000 & 20000kg) 20m (30000kg)
Options Available
Vessel/Silo mounting assembly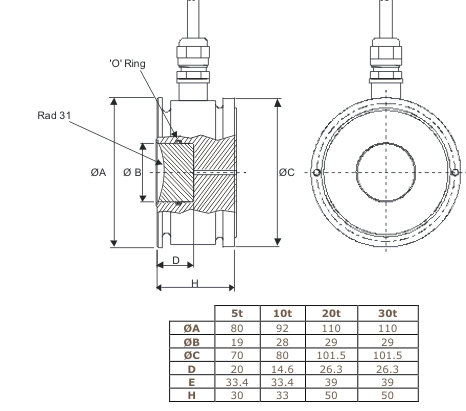 Vessel Weighing
Silo Weighing
Centre of gravity weighing systems
Multi point structure weighing
Test machine/press calibration
Request a quote for CBR Stainless Steel Compression Bending Ring Load Cell