SPB-6 Medium Range Aluminium Single Point Load Cell
The SPB-6 is a medium range anodised aluminium alloy single point load cells, which has been specifically designed for platform weighing applications, although it is equally suited to other weighing and force measurement applications where high accuracy is required.
The SPB-6 is suitable for use in platforms with sizes up to 600mm x 600mm. It is environmentally sealed as standard to IP65, but can be offered with IP67 sealing.
The SPB-6 series can be supplied on it's own or combined with our extensive range of instrumentation to provide a complete load monitoring system.
Anodised aluminium construction
Environmentally sealed to IP65 (IP67 optional)
High accuracy (<±0.02%)
Ratings from 50 to 1500 kgs
Suitable for use in platforms, maximum size 600mm x 600mm
Rated Load (kg)
50, 75, 100, 150, 200, 250, 300, 500, 635, 750, 1000, 1500
Proof Load
150% of Rated Load
Ultimate Breaking Load
250% of Rated Load
Output
2.0 mV/V at Rated Load (±10%)
Accuracy
< ±0.02% of Rated Load
Non-Repeatability
< ±0.01% of Rated Load
Excitation Voltage
10vdc recommended, 15vdc maximum
Bridge Resistance
415Ω
Insulation Resistance
> 500MΩ @ 100vdc
Operating Temperature Range
-20 to +70°C
Compensated Temperature Range
-10 to +40°C
Zero Temperature Coefficient
< ±0.002% of Rated Load/°C
Span Temperature Coefficient
< ±0.003% of Rated Load/°C
Environmental Protection Level
IP65
Connection Type
PVC screened cable 3m long
Wiring Connections

| | | | |
| --- | --- | --- | --- |
| Green | +ve supply | Black | -ve supply |
| Blue | +ve sense | Brown | -ve sense |
| Red | +ve signal | White | -ve signal |

Options Available
Can be supplied sealed to IP67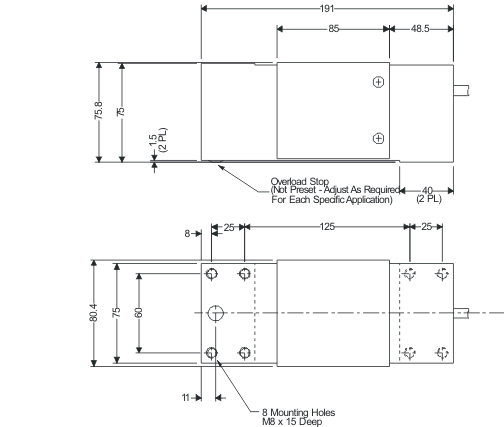 Large platform scales
Check weighing
Hanging scales
Web tension measurement
Portable equipment weighing
Request a quote for SPB-6 Medium Range Aluminium Single Point Load Cell