T24-SA Wireless Strain Gauge Load Cell Acquisition Module
The T24-SA is a high performance strain gauge to radio wireless telemetry converter module, offering precision measurement with high performance two-way telemetry. It is used in wireless load, force, pressure and torque applications.
Low power modes allow the OEM wireless strain gauge sensor transmitter module to 'power down' between transmissions or to 'power off' completely and can be controlled by other T24 products such as the handheld displays or a base station. The wireless strain gauge sensor can be configured to last several years on 2 x alkaline AA batteries or alternatively be powered from 2 x NiMH or 1 x 3V Lithium.
The high accuracy, low noise measurement electronics in the T24-SA deliver high resolution, low drift results which can be user calibrated over 9 points to enable linearization and to deliver results in user definable engineering units. The results can be transmitted at rates up to 200 per second to other T24 devices such as handheld displays, analog outputs and base stations etc.
The licence-free 2.4GHz radio provides a line-of-sight communication range of 800 metres (2,600 feet), extendable by the use of a repeater. The use of the latest DSSS radio technology minimises local radio interference and ensures data integrity and security.
The wide operating temperature range and the robust technology ensures that the module is not susceptible to harsh physical or electrical environments.
Miniature PCB for fitting inside sensors
Very low power consumption for long battery life (up to 5 years)
Very small size (18 x 40 x 7mm including signal conditioning module)
2 way radio system for data integrity
Remote power on/off (sleep/wake)
Up to 800m (2,600ft) wireless range
Worldwide licence exempt 2.4GHz radio
Configured and calibrated via PC using a base station and telemetry toolkit software provided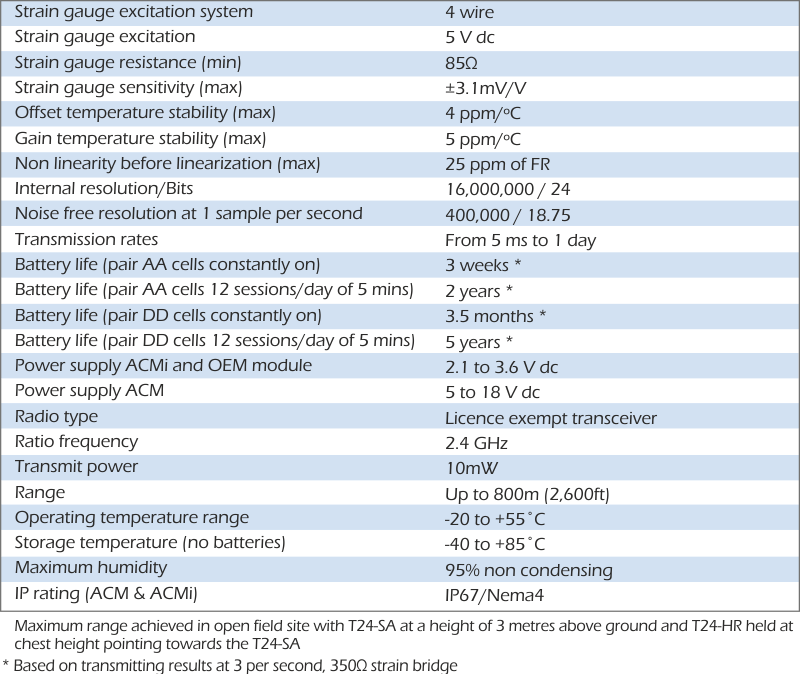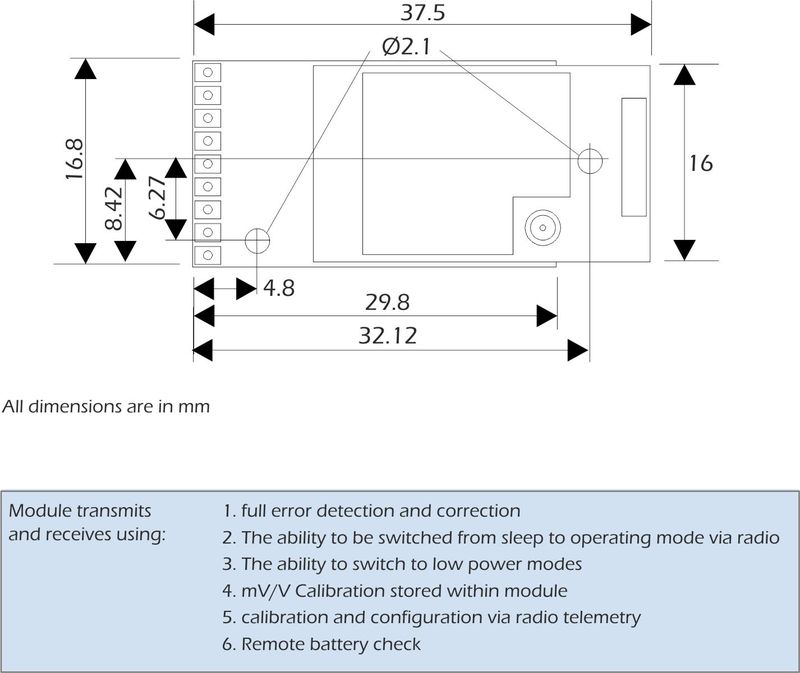 Wireless load shackles/load links
Crane weighing
Cable tension measurement
Rotating machine force measurement
Request a quote for T24-SA Wireless Strain Gauge Load Cell Acquisition Module