LCM Systems Achieves ISO9001:2015 Certification 📰
13th Nov 2020
LCM Systems Ltd is proud to announce that we are now ISO 9001 Quality Management certified by Sira under certificate number 200033. This internationally recognised standard ensures that our products meet the needs of our customers through an effective quality management system.
We have developed and implemented our quality management system to provide us with structured and monitored benefits, including:-
Increased revenue - Leveraging the reputation of ISO 9001 can help us to win more tenders and contracts, whilst increasing efficiency aids customers satisfaction and retention.

Improvement of our credibility - When organisations are looking for new suppliers, it is often a requirement to have a QMS based on ISO 9001, particularly for those in the public sector.

Improved customer satisfaction - By understanding our customers' needs and reducing errors we will increase customer confidence in our ability to deliver products and services.

Higher operating efficiency - By following industry best-practice and focusing on quality we can reduce costs.

Improved decision-making - We can detect and identify problems in good time, which means that we can quickly take steps to avoid the same mistakes in the future

Greater employee engagement - By improving internal communications we can ensure everyone works to one agenda. Involving employees in designing process improvements makes them happier and more productive.

Better process integration - By examining process interactions we can find improvements in efficiency more easily, thereby reducing errors and benefiting from cost savings.

A continual improvement culture - This is the third principle of ISO 9001. It means that we can embed a systematic approach to identifying and exploiting opportunities to improve.

Better supplier relationships - Using best-practice processes contributes to more efficient supply chains, and certification will signpost these to your suppliers.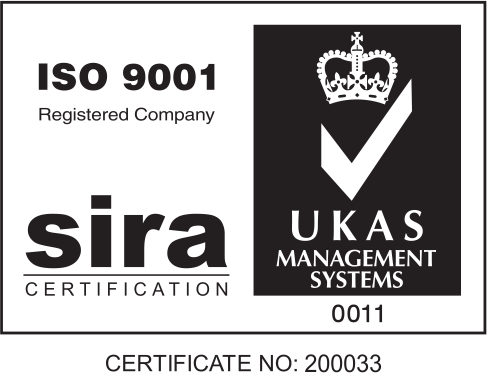 Our decision to pursue a ISO 9001:2015 Quality Management certification, audited by a UKAS accredited certification body demonstrates our commitment to always provide the highest quality products to all our customers.
This has been a journey that began over a year ago. Our Quality Manager, Joe Hayward, has worked tirelessly to fully implement the Quality management System and gain the certification approval, although this really has been a team effort from beginning to end through the dedication and hard work of our entire team. The system will work to help us drive our business forward and we are so pleased to have finally reached our goal.
Moving forward we will ensure that we uphold the highest standards to maintain our ISO 9001:2015 certified quality management system and to continue to deliver the market leading products that our customers have come to know and expect.
We are looking forward to new opportunities and projects with both our existing and new customers!