LCM4643-ATEX 12te Load Shackle with ATEX Display & Alarm System
This requirement was for an international offshore drilling contractor that provides oilfield services for offshore oil & gas production, specialising in the ultra-deepwater sector. They needed ATEX Zone 2 rated load shackles with displays and alarms for one of their deep water drillships that was being deployed off the Angola coast on the ultra-deepwater Kaombo project. Due to their clients stringent rules regarding hazardous areas, they needed certified products in order to comply.
LCM Systems designed a system to meet their requirements that comprised of 3 x 12 tonne load shackles and an ATEX junction box to be situated at the top of an A-Frame, which was wired to another ATEX junction box at its base and connected to 3 channel ATEX display and alarm system (see photo below). Also connected to this junction box was an additional display and alarm system located below deck in the driller cabin, which, because it was located in the Safe Area, was not required to be ATEX certified. Due to the harsh operating environment, all cable supplied was RFOU (I) 250V armoured mud resistant power/instrumentation cable, specifically designed for safety critical systems in both EX and safe areas.
The load shackles were required to monitor the loads on umbilical roller sheaves as they payed out the hose to ensure that it did not become sagged and to check that the hydraulic hose reels were operating correctly. Each load shackle had its own display to show the individual loads, and all three were set to trigger an audio and visual alarm in the event of a pre-set limit being reached. A second display and alarm system was incorporated into the drilling cabin for remote system monitoring.
We subsequently received an identical order for the same system for another deep water drillship operator working on the same project.
The main criteria we were given was as follows:
Load shackle and display/alarm systems must be certified for use in Zone 2 hazardous areas
Customer specified trip levels for each load shackle to be set
Integrated dual alarm systems for above and below deck required
System must be suitable for use in an offshore environment
Full material traceability required
Load shackles to be calibrated to traceable standards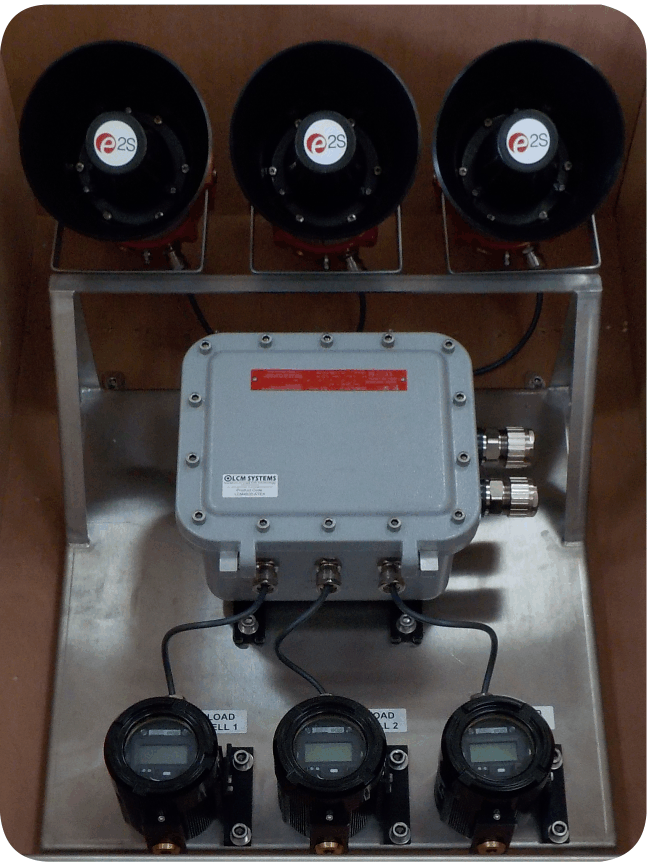 12te ATEX Load Shackle
3-channel ATEX certified aluminium load cell termination junction box
3-channel ATEX certified aluminium system termination and feed-through junction box
Audio and visual alarms
Environmentally sealed to IP67
Load pins manufactured from 17-4PH H1150 stainless steel
Manufactured using a Crosby G2130 bow shackle
Supplied with ATEX certified display
Supplied with load bobbin for optimal accuracy
Supplied with PMD-PROCESS panel mounted display for Safe Area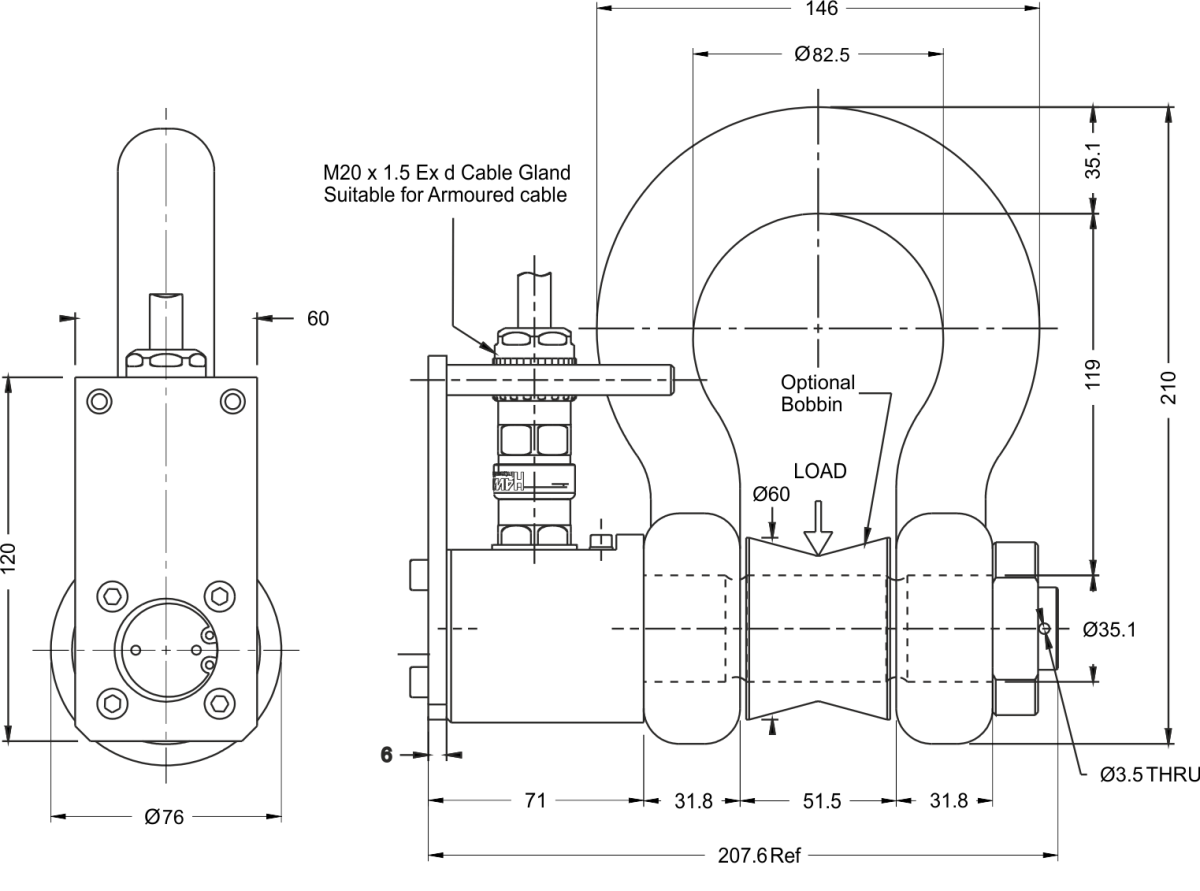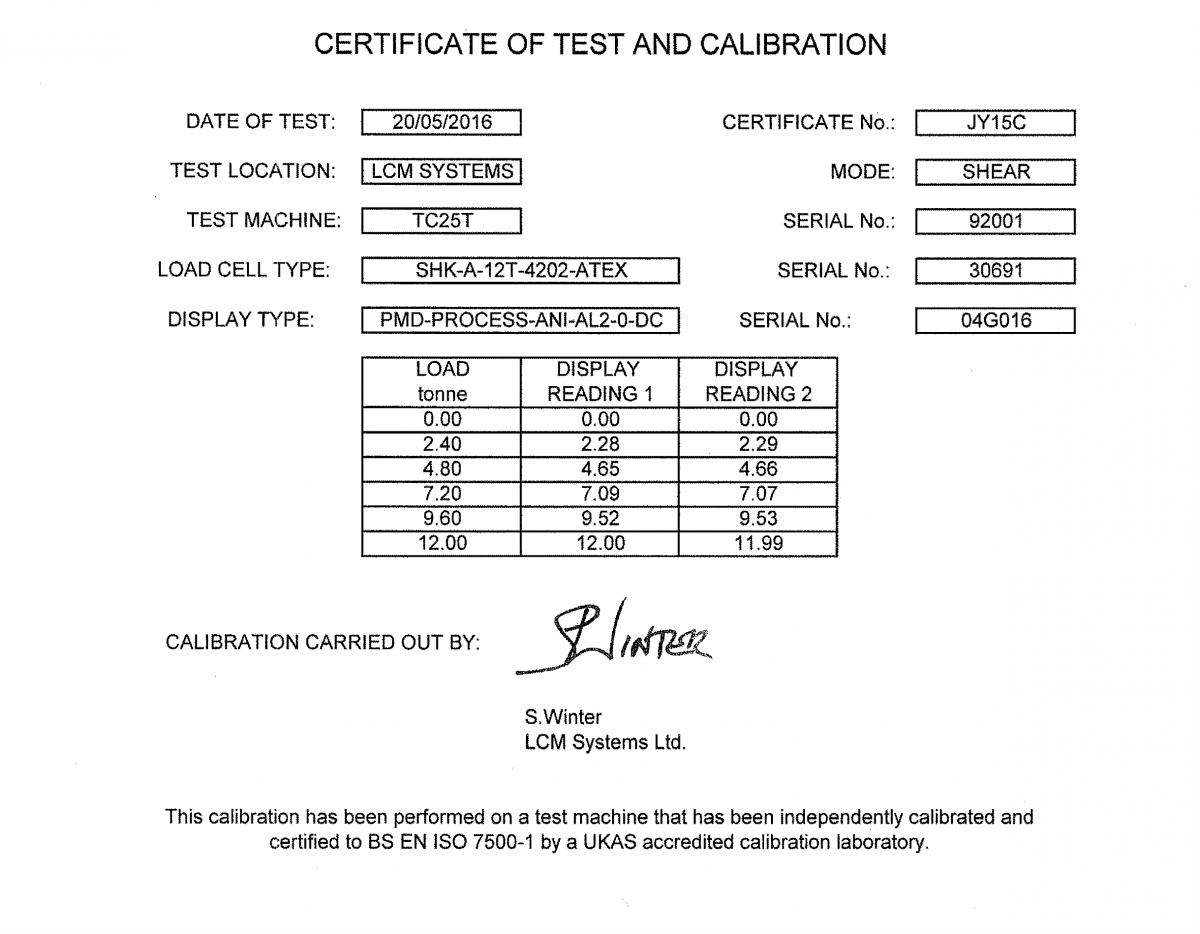 Request a quote for LCM4643-ATEX 12te Load Shackle with ATEX Display & Alarm System