X24-HD Wireless ATEX/IECEx Handheld Display
The X24-HD is a highly configurable ATEX/IECEx handheld wireless display capable of working with X24 or T24 transmitter modules to allow remote viewing in the hazardous area of strain gauge inputs using 2.4GHz radio.
The X24-HD receives data from the remote transmitter module, such as the X24-ACMi-SA, captures this data and displays it. The handheld can operate by displaying data from any transmitter detected or you can define up to 24 specific transmitters to allow the operator to cycle through. Grouping functions allows up to 8 group totals to be viewable. Each group or individual transmitter has user defined name, scaling, display format, zero functions and overload settings.
The licence-free 2.4GHz radio signal provides a line-of-sight communication range of up to 800 metres (2600 feet), approved for FCC, IC and European use. The flexible transmission rates and low power usage allows for long battery/cell life for remote modules, and the use of the latest DSSS radio technology minimises local radio interference and ensures data integrity and security. The unit also has a wide operating temperature range and the robust technology that ensures that the X24-HD it is not susceptible to harsh physical or electrical environments.
The X24 Telemetry range of products are ATEX and IECEx approved members of the larger T24 Telemetry product range. Systems can be put together using X24 in the hazardous areas and T24 in safe areas as required. Free Toolkit software provides simplified configuration of modules and other free software provides logging and visualisation functionality for Windows PCs.

Battery powered and compact
Simple operation
Will connect to a single or multiple acquisition unit/load cell for wireless communications
Worldwide licence exempt 2.4GHz radio
Up to 800 metre (2600 feet) range maximum
Environmentally sealed to IP67
Approved for use in explosive atmosp eres, Zones 1 & 2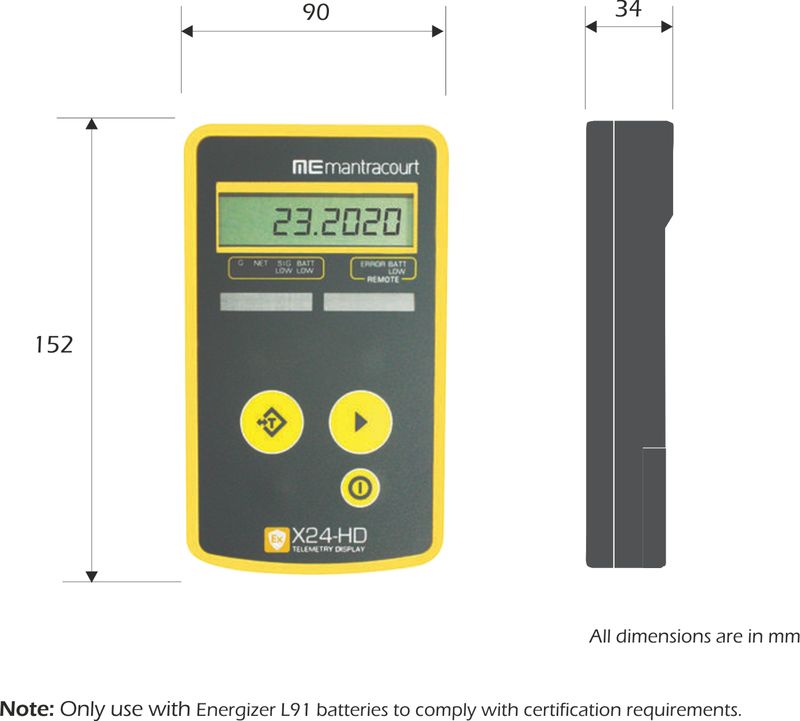 Wireless load shackles
Wireless load links
Hoist load monitoring
Cable tension measurement
Crane safe load monitoring
Request a quote for X24-HD Wireless ATEX/IECEx Handheld Display