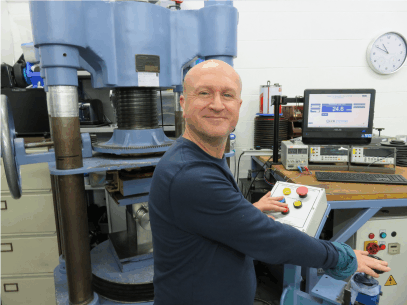 New Addition to the LCM Calibration Department 📰
27th Oct 2023
Over the past couple of years, LCM Systems has seen a significant increase in business, which while being a positive and necessary development in terms of meeting future growth targets, can have an impact on production planning and timescales. With a view to improving our calibration resources, which had become very stretched, we are currently training a second, full-time calibration technician.
Mark Capodici has been with LCM Systems for 3 years, starting out as supply chain fulfilment assistant and responsible for general stores activities, kitting of production materials and goods inwards processing and inspection. In June this year he expressed a desire to transfer to production and learn how to operate our calibration test machines and carry out calibrations on our load cells. Mark saw this as a great opportunity to progress within the company and broaden his knowledge and skill set. Training started in July and Mark has been expanding his capabilities week by week and is now well underway to becoming a very productive and valued addition to the calibration team.
Every company that experiences sustained rapid growth has the challenge of managing the inevitable increase in demand for existing resources and making sure there is sufficient investment in additional personnel and equipment to keep up with the growing demand. LCM Systems are committed to providing our customers with outstanding levels of customer service and ensuring orders are fulfilled and despatched as quickly and efficiently as possible. With so much currently happening throughout the business as it expands, watch this space for more updates on what we are doing going forward to improve performance throughout all areas of our organisation.