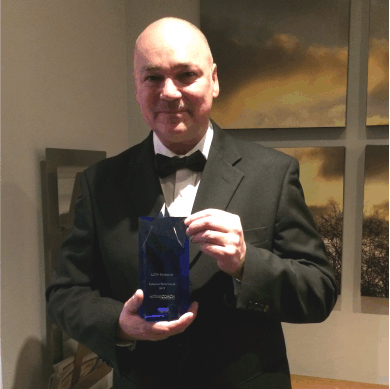 LCM Systems Wins Action Coach Sustainable Performance Award 📰
16th Feb 2016
LCM Systems is the proud winner of the Action Coach Sustainable Performance Award. Presented at the Action Coach Awards Gala Dinner held at the Royal Albert Yacht Club in Portsmouth, LCM Systems won the Award in recognition of continued growth, despite very difficult market conditions.
Action Coach is a global business coaching enterprise that mentors business owners to improve their business through guidance and support. LCM Systems were selected as the business with the best sustainable performance from SME's in the Hampshire and Isle of Wight region that are currently working with an Action Coach. The annual award ceremony is held in recognition of the businesses that have demonstrated outstanding improvements during the previous year.
The photograph shows Ray Leach, Production Manager together with the company's Action Coach mentor Gary Mullins. Commenting on the award, Gary said: "In a very tough climate the team at LCM systems achieved amazing results in 2015, driven by dedication and commitment to continual improvement by all the team. Well done."
As previous winners of the Business of the Year award in 2013, this latest award is in recognition of the procedures and systems put into place over the past two years that have helped build a comprehensive structure that can accommodate future planned growth. In particular, the focus on sales processes was highlighted has having been crucial in enabling the company to achieve a 3% growth increase. This has been realised despite a difficult trading year due to the low oil price, which has negatively impacted the oil & gas industry (a major market for the company), with many planned projects either postponed indefinitely or cancelled altogether. The sales team have worked very hard to convert enquiries and also exploit opportunities in other markets to help offset the downturn in the oil and gas industry. During the previous year LCM also continued to recruit and invest in new product developments, as well as opened a new office in Romania.