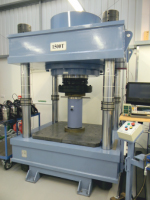 New 1500 Tonne Calibration Test Machine 📰
26th Feb 2014
LCM have recently a custom designed 1500 tonne calibration machine at our manufacturing facility in Newport, Isle of Wight. The addition of this machine to our calibration facilites means that all load cells, shackles and pins with capacities up to 1500 tonnes in compression and 150 tonnes in tension, can be calibrated in-house. For customers, this means that prices can be reduced and faster delivery times for large capacity load cells guaranteed. Also, as many of LCM Systems' load cells are used in safety critical applications, all calibrations are traceable to national standards and accurate to 0.1% of rated load.
Prior to its arrival, all load cells measuring loads over 200 tonnes had to be shipped to The National Physical Laboratory in Teddington for calibration, adding to the production time and also incurring additional costs. Having seen a large increase in the requirement for larger capacity load cells over the last few years, it became increasingly evident that investing in a bespoke calibration machine would not only dramatically speed up the production process, but would also pay for itself in just two years.
Having the ability to carry out calibrations up to 1500 tonnes is also rather unique, as apart from The National Physical Laboratory, there is only one other calibration machine in the UK capable of testing load cells with such high capacities.
Steve Sargeant, Managing Director said "We are delighted at the arrival of our new calibration test machine, which comes after 18 months of designing and planning, and is a really positive addition to our facilities. The company is growing rapidly, and as we are committed to maintaining this growth. This enhancement to our capabilities will be key to helping us achieve this. Crucially, we can now offer our customers of large capacity load cells improved delivery times as well as cost reductions, making us even more competitive."
The test machine represents a significant investment for LCM, which has been possible due to an increased demand for the company's products, with growth over the last few years consistently around 30%.