T24-ACMi Single Channel Wireless Compact Docking Module
The T24-ACMi is a single channel connectivity module offering high precision measurement of a single input. It has a high performance radio/telemetry output when fitted with one of our telemetry acquisition modules.
Usable around the globe on the licence-free 2.4GHz frequency, the T24 range avoids local radio interference to ensure data integrity and security. The system provides exceptional performance in the field with a battery life of up to 5 years, by 'powering down' between transmissions or 'powering off' completely.
The T24-ACMi is powered by a pair of alkaline 'AA' cells and is environmentally sealed to IP67.
The T24-ACMi high accuracy, low noise measurement electronics deliver high resolution, low drift results which can be user calibrated over 9 points to enable linearization and to deliver results in user definable engineering units. The results can be transmitted at rates of up to 200 per second to other wireless sensing T24 devices such as handheld displays, analogue outputs and base stations etc.
The wireless sensor transmitter is configured and calibrated (either by applying known inputs or by table entry) using free T24 Toolkit software which runs on a PC connected to a T24 base station.
The T24 offers a wireless range of up to 800 m (2,600 ft) in open field site.
Battery powered for up to 2 months
Compact wireless sensor transmitter
Integrated PCB antenna
IP67 sealed enclosure
Screw terminals for ease of connection
Simple configuration and calibration of acquisition module via PC using a base station and Telemetry Toolkit software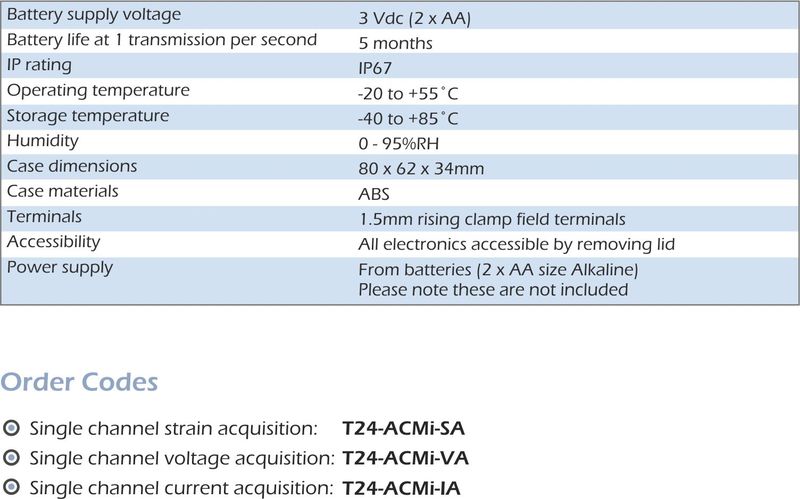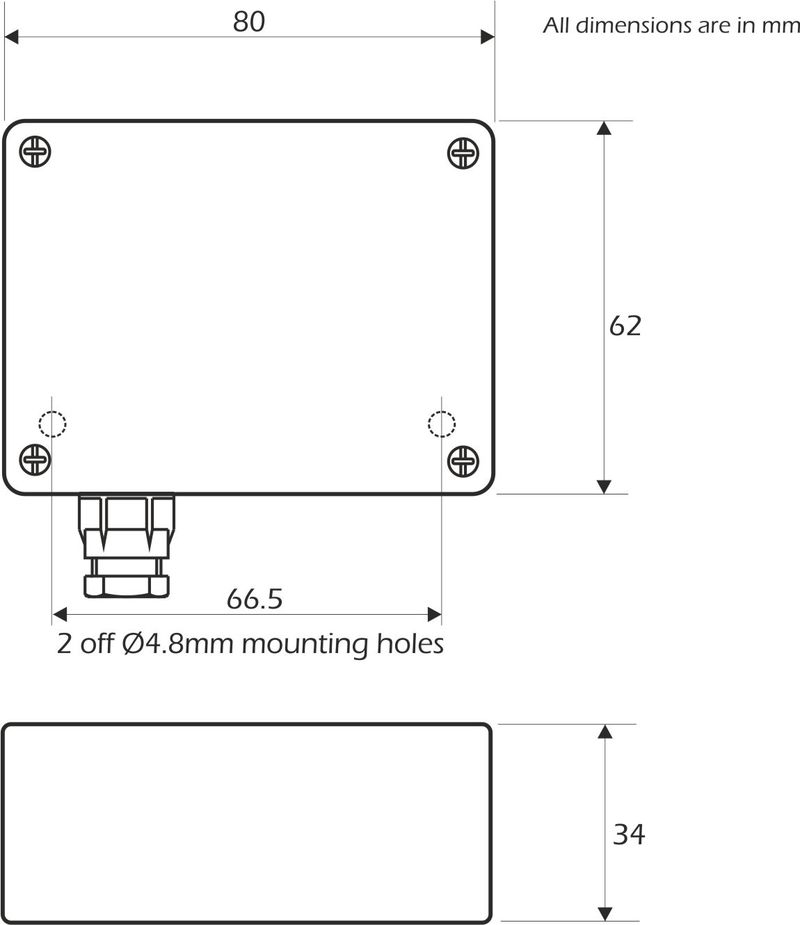 Crane Weighing and Overload Protection
Production machining condition monitoring
Vessel Weighing
Vehicle Weighing
Request a quote for T24-ACMi Single Channel Wireless Compact Docking Module