WLL Stainless Steel Wireless Load Link
The WLL series of wireless load links have been designed for lifting and weighing in rugged or harsh environments, being manufactured from stainless steel for corrosion resistance. It complies with the European Machinery Directive 2006/42/EC and is supplied in a robust storage case.
The WLL wireless load link series are simple to install and are matched to standard shackle sizes. The unique wireless housing is manufactured from semi-aromatic polyamide plastic making the load link far more compact and reducing the overall product weight. Located in the housing are two AAA alkaline batteries which can be easily accessed by removing the telemetry housing cover, while the internal electronics underneath remain completely sealed. The antenna is also internally mounted, protecting it from accidental damage during use and handling. The batteries are standard AAA alkaline batteries, which are readily available and low cost.
The WLL load link is also supplied as standard with a handheld battery powered display (T24-HS-LS) which can display in both tonnes or lbs, or alternatively, for multi-link applications, a single display (T24-HA) can address up to 12 links for individual monitoring, or for summation/balancing applications. The built in wireless electronics operates on the 2.4GHz license free frequency, with a robust proprietary protocol, providing interference free communications.
For more complex systems, including datalogging or monitoring/reporting requirements, we are able to offer a robust tablet PC with installed software for use with single or multiple load cell installations.
The WLL wireless load link series can be supplied as shown in this data sheet, or can be modified to meet a particular application requirement. We are always pleased to discuss any special requirements that can be accommodated.

Amplified output version available
Environmentally sealed to IP67
Higher Range versions available
Machinery Directive 2006/42/EC compliant
Ratings from 5 to 100te
Simple installation and operation
Special Sizes and ranges available
Stainless steel (17-4PH H900)
Supplied with transit case
Wireless load link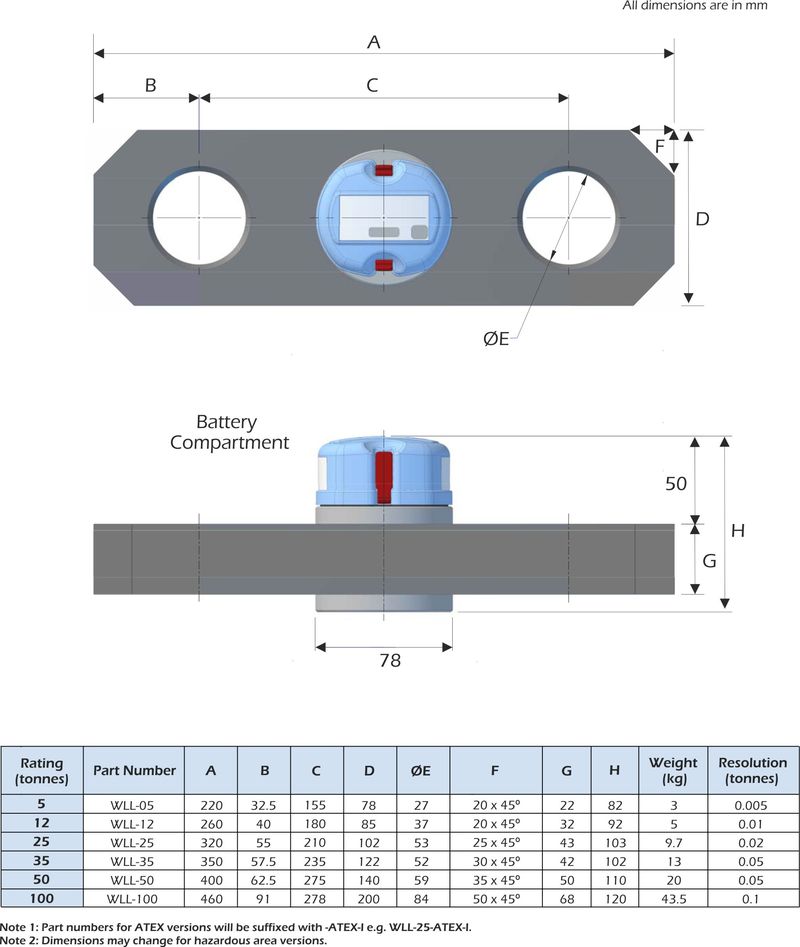 Cable Tension Monitoring
Under-hook Hoist and Crane Weighing
Towing/Mooring Tension
Crane Safe Load Monitoring
Water Bag Weighing
Lifting Gear Testing
Request a quote for WLL Stainless Steel Wireless Load Link