BP16 Strain Gauge Pressure Transducer
The BP16 range of pressure transducers have been widely used for many years and combine the excellent performance of bonded foil strain gauge technology with a single piece stainless steel diaphragm construction. They provide an excellent price/performance ratio, being suitable for use in many arduous measurement applications.
The BP16 construction makes it ideal for a wide range of applications, including, hydraulic lifting, mobile hydraulic vehicles, portable test gear and air frame test rigs amongst others. The most popular version of the BP16 pressure transducer is the integral cable version, which is supplied with a 2 metre PVC cable length. However, an integral connector version is also available, as are versions with different cable lengths or different cable types.
The BP16 pressure transucer offers a variety of amplified outputs in the same packaging arrangement (a separate data sheet is available detailing these). LCM Systems can supply the BP16 on it's own or integrated with any of the wide range of strain gauge based instrumentation available from LCM Systems.
1000ohm bonded foil strain gauge bridge resistance as standard (option of 350ohm bridge available)
Amplified current output version (refer to BP16EF datasheet)
Amplified voltage output version (refer to BP16UVW datasheet)
IP66
Ratings from 100psig to 15,000psig
Stainless steel diaphragm
Strain gauge technology
Supplied with 2 metre PVC cable (versions available with integral connector or modified cable lengths/type)
¼" BSPP female pressure port (supplied as standard with bonded seal and ¼" male pressure port adaptor)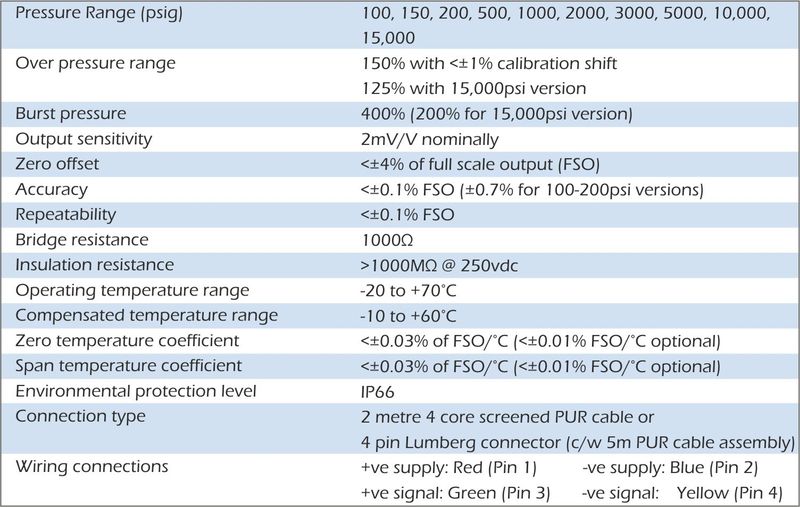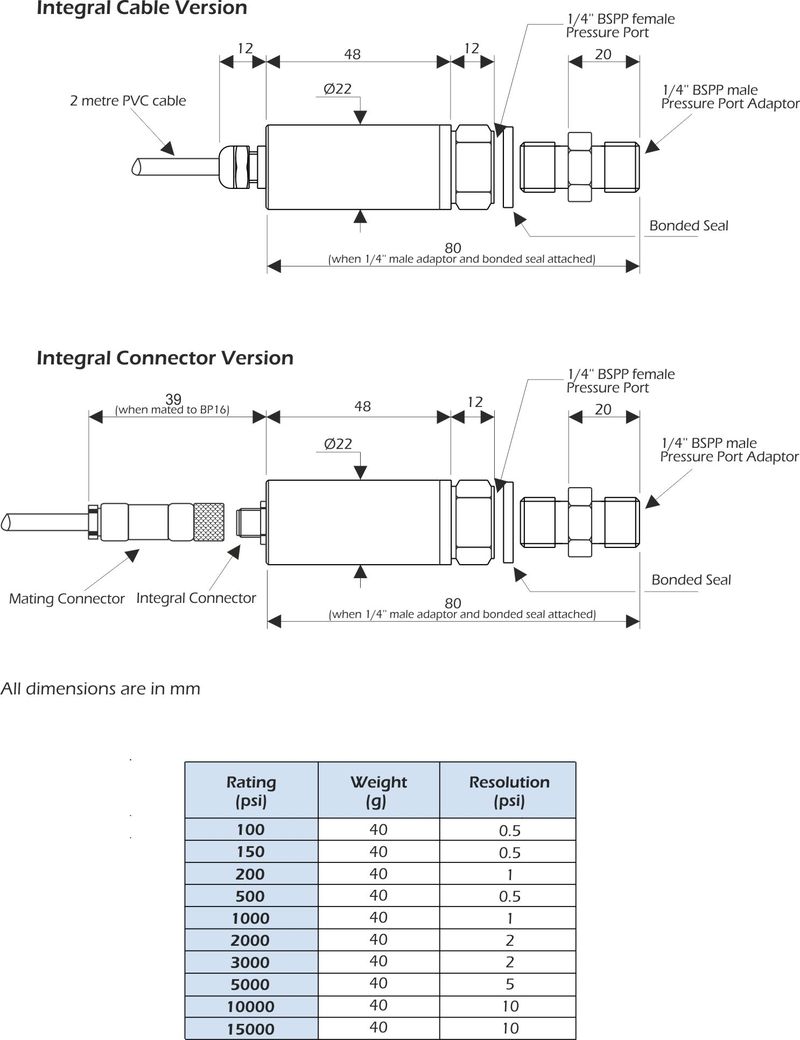 On-board vehicle weighing
Earthmoving vehicle hydraulic system protection/weighing
Portable hydraulic test sets
Air frame test rigs
Hydraulic system feedback control
Request a quote for BP16 Strain Gauge Pressure Transducer