LPW Wireless Load Measuring Pin
The LCM range of wireless load measuring pins are designed for general use. They are a simple and versatile type of load cell that are used in a large variety of applications such as cranes, winches, hoists, load shackles and bearing blocks. They are easily installed into machines by replacing any existing load bearing pin to provide accurate, real time monitoring of load forces.
Machined from high tensile stainless steel and normally supplied complete with an anti-rotation plate, all our load measuring pins are built to exacting standards and proof loaded to 150% of normal rated load. Our standard wireless load pin range covers ratings between 3.5 and 1500 tonnes, and can be provided as shown on this data sheet or can be modified to meet a particular application requirement (see LPB data sheet)
The unique wireless housing is manufactured from semi-aromatic polyamide plastic making the load cell far more compact and reducing the overall product weight. Located in the housing are two AAA alkaline batteries which can be easily accessed by removing the telemetry housing cover, while the internal electronics underneath remain completely sealed. The antenna is also internally mounted, protecting it from accidental damage during use and handling. The batteries are standard AAA alkaline batteries, which are readily available and low cost.
The LPW is also supplied as standard with a handheld battery powered display (T24-HS-LS) which can display in both tonnes or lbs, or alternatively, for multi load pin applications, a single display (T24-HA) can address up to 12 load pins for individual monitoring, or for summation/balancing applications. The built in wireless electronics operates on the 2.4GHz license free frequency, with a robust proprietary protocol, providing interference free communications.
For more complex systems, including data logging or monitoring/reporting requirements, we are able to offer a robust tablet PC with installed software for use with single or multiple load cell installations.
The LPW series can be supplied as shown in this datasheet or can be modified to meet a particular application requirement. We are always pleased to discuss any special requirements that can be accommodated.

Anti-rotation plate supplied if required
Design support software available
Environmentally sealed to IP67
From 3.5 to 1500 tonnes
Stainless steel construction
Wireless load pin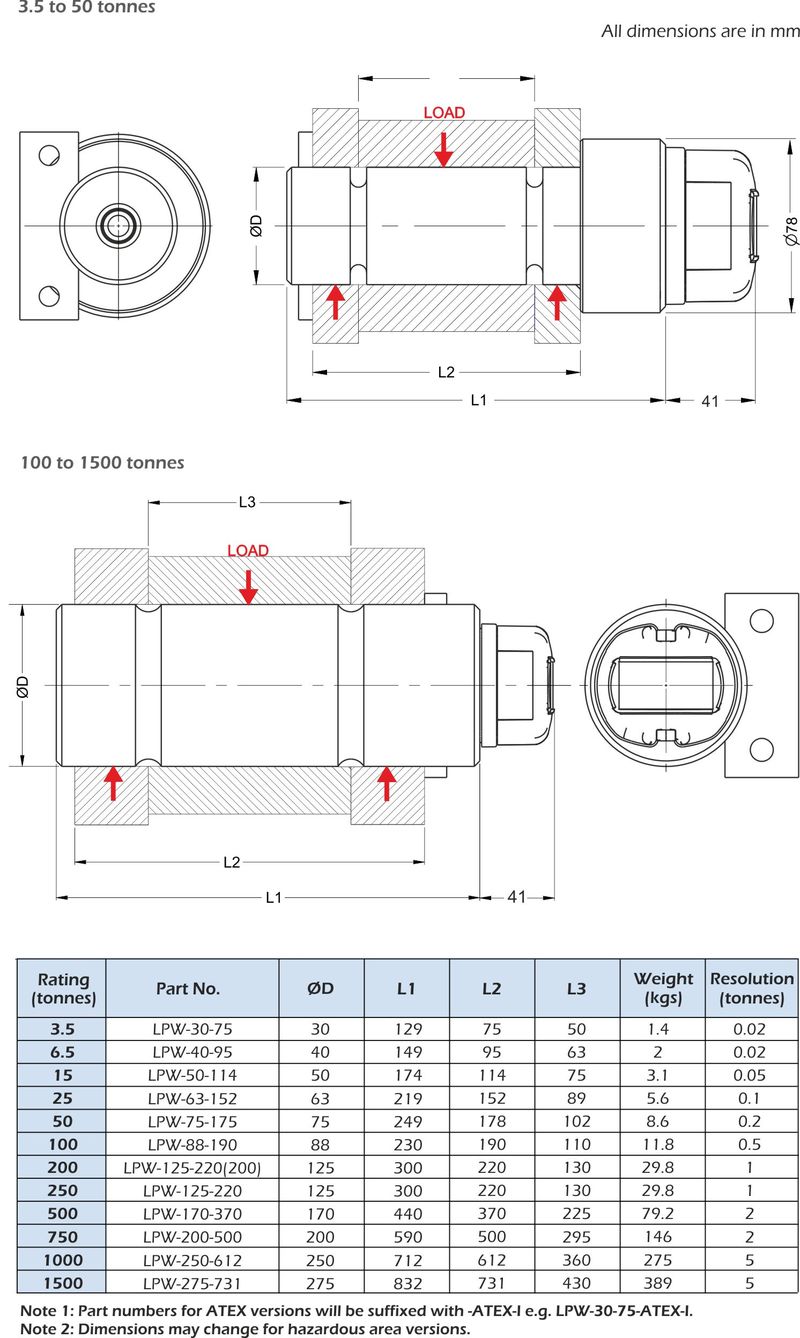 Crane overload protection
Hoist overload protation
Mooring load tension measurement
Winch force monitoring
Cable and wire dynamometers
Request a quote for LPW Wireless Load Measuring Pin