TELSHACK-D Wireless Crosby D Type Load Shackle
The TELSHACK-D range of telemetry load shackles are manufactured using the Crosby(tm) G2150 shackles. Versions are also available using the popular GreenPin(tm) range of shackles. The built in radio telemetry electronics operates on the 2.4GHz license free frequency.
The unique telemetry housing is manufactured from tough high performance polyamide resin making it strong yet light, resulting in a better balanced load shackle when compared to others available on the market. Two clips enable you to open the housing to access and change the two AAA lithium batteries, while the internal electronics underneath remain completely sealed. This includes the antenna to ensure maximum protection from damage.
The TELSHACK-D load shackle is also supplied as standard with a handheld battery powered display which can toggle between tonnes or lbs, or alternatively, for multi-shackle applications, a single display can address up to 12 load shackles for individual monitoring, or for summation/balancing applications (see 24-HA).
LCM Systems can also supply more complex telemetry systems. For further information on what we can offer, please contact our technical department with details of your application requirements.

2.4GHz license free frequency
Continuous use battery life of 200 hours.(batteries are built-in & rechargeable)
Environmentally sealed to IP67
From 12 tonne to 35 tonnes
High tensile carbon steel construction
Many other telemetry configurations available
Shackle and load pin fully certified
Simple installation and operation
Transmission range of up to 120 metres clear line of sight
Wireless D type load shackle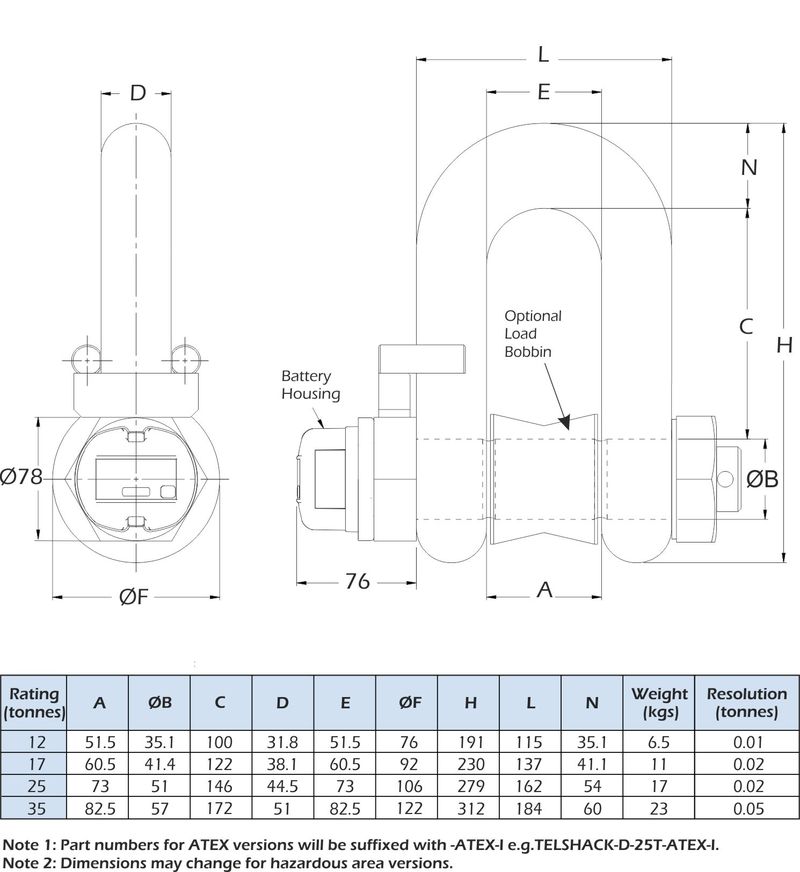 Under-hook Hoist/Crane Lifting
Cable Tension Monitoring
Towing/Mooring Tension
Beam proof loading
Request a quote for TELSHACK-D Wireless Crosby D Type Load Shackle